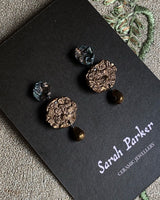 Latest Collection - Coral Inspired
A selection of bespoke porcelain jewellery, inspired by Nature and Museum Collections, since 2014.
I draw on Ornithology, Mineralogy, Marine Invertebrates (coral) and Lepidopterology (butterflies) specimens, found in Museum Collections and the natural environment.
I produce one off and limited edition pieces. Contact me directly for enquiries.
Take a look....